UK payrolls return to pre-pandemic levels, with vacancies at record – business live | Business
Good morning, and welcome to our rolling coverage of the world economy, the financial markets, the eurozone and business.
UK company payrolls have returned to their pre-pandemic levels, and vacancies are at a record, as the long recovery from the Covid-19 crisis continues.
The latest unemployment report, just released, shows that "the labour market continuing to recover", according to the Office for National Statistics.
The number of payroll employees rose by 241,000 in August to 29.1 million, returning to levels seen in February 2020 before the first lockdown.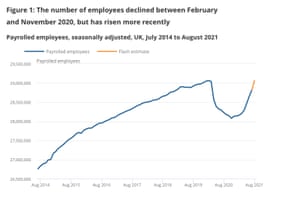 All regions except London, Scotland and South East are now above pre-pandemic levels, the ONS reports.
And despite this rise in payrolls, vacancies are at a record levels as firms across…