'Capitalism without competition is exploitation,' says Biden as he signs order – live | US news
The US Department of Education has announced that it is cancelling $55.6 million in student debt as it approves more than 1,800 loan forgiveness claims from students who were victims of for-profit college fraud.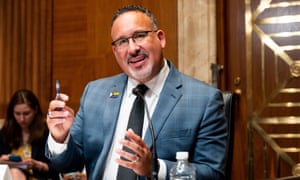 The announcement is part of the Biden administration's pledge to cancel $1 billion in student debt from defrauded borrowers. Over 73,000 students were eligible for the debt relief under the Trump administration but only received partial loan forgiveness after former Education Secretary Betsy DeVos modified the cancellation calculation, Maya Yang writes.
The 'Borrower Defense" rule under which the relief is…