Home / Almost everything we'd want in a gaming laptop—the Asus ROG Zephyrus G15
Almost everything we'd want in a gaming laptop—the Asus ROG Zephyrus G15




Jim Salter





Jim Salter








Jim Salter





Jim Salter
Recently, we managed to get our hands on an Asus ROG Zephyrus G15 laptop. We had to do it just like anybody else does, by finding one and buying it retail. That's notable because this laptop combines AMD's Ryzen 9 5900HS processor with an Nvidia RTX 3070 Mobile GPU, a combination that means this device sells out extremely quickly.
Make no mistake, the RTX 3070 in this year's AMD-powered Zephyrus is a distinct step up. Last year, if you wanted an RTX 3000 series GPU in a laptop, you had to settle for an Intel CPU to go with it.
Overview
Specs at a glance: Asus ROG Zephyrus G15 GA503, as tested
OS
Windows 10 Home
CPU
3.0GHz 8-core AMD Ryzen 9 5900HS (4.5GHz boost)
RAM
16GiB DDR4-3200
GPU
AMD Radeon 8 core / Nvidia GeForce RTX 3070 MaxQ
SSD
SK Hynix M.2 NVMe PCIe3.0 1TB
Battery
ASUStek 90Wh
Display
1440p WQHD, non-glare, 165Hz, adaptive sync
Connectivity

two USB-A ports
two USB-C ports
3.5mm phone/mic combo jack
DC power jack
full-size HDMI out
RJ-45 wired Ethernet
micro SD reader
Kensington lock slot
no camera

Price as tested
$1,800 at Best Buy
This year's Ryzen-powered Asus ROG Zephyrus G15 is almost everything we'd want in a gaming laptop. Beastly CPU? Check. Beastly GPU? Check. Full-size wired LAN port? Check. Loud speakers? Absolutely. 1440p display with high refresh? Yes. Even the storage on this laptop—a model of SK Hynix NVMe SSD we'd never seen before—is blistering fast.
Unfortunately, this year's Zephyrus G15 shares the same Achilles' heel as last year's Ryzen-powered G14: there's no webcam.
This puzzling omission feels almost like somebody at Asus lost a bet. Not only do game streamers frequently want a cam view, we're a year and change into a global pandemic with near-universal need for daily teleconferencing. So, why Asus… why?
Aside from that, this is a great general-purpose laptop as well as a gaming-specific beast. Even its fans were much better behaved than last year's G14, and this setup remained near-inaudible throughout everything but Time Spy testing.
Internals and upgrades




Jim Salter





Jim Salter





Jim Salter
Getting into the Zephyrus G15 is relatively easy. There are no individual compartment panels; the entire back plate lifts off after removing 10 visible screws and three hidden ones. (The screws in the center of the panel are the "hidden" ones, concealed under sticky rubber caps for some reason.)
Note that the lower right screw is a captive design—although you can force it to, it's not supposed to actually come out of the back plate entirely. The idea is that after removing the first 12 screws entirely, you can use the unscrewed-but-still-inserted thirteenth as leverage to pop the panel loose in that corner. We'd still recommend a spudger and some patience if you want to remove the panel without damage, whether or not you use the captive screw to begin.
Once you're into the G15, everything's easy to find and work with—there's none of this silly "remove the keyboard to access the Wi-Fi" business. You'll find the single DIMM slot (initially populated with an 8GiB Samsung DIMM, on our system) just left of center. The C: drive, an SK Hynix 1TB M.2 NVMe drive, is just above and to the left of the DIMM slot. A second, unpopulated M.2 NVMe slot is off to the right of the first M.2, and the Intel AX201 Wi-Fi is socketed just below that.
The only somewhat sour note here is that single DIMM slot—8GiB of the laptop's base 16GiB is soldered to the board. This limits how far you can upgrade the RAM. The manual says it only goes to 24GiB, but we got it to 40GiB without problems using a 32GiB HyperX DIMM. Still, you're effectively stuck in single-channel mode for 24GiB of that, since it's not possible to upgrade both banks evenly.
Performance—multi-threaded CPU




Jim Salter





Jim Salter





Jim Salter
The Ryzen 9 5900HS in the Zephyrus G15—to absolutely no one's surprise—wipes the floor with every competitor in multi-threaded testing, including the unusually Intel-friendly Geekbench 5.
In Cinebench R20—generally our favorite one-size-fits-all CPU test—the 5900HS only improves on last year's 4900HS (found in the 2020 ROG Zephyrus G14) slightly, but they both deliver roughly double the performance of their closest competitors.
Passmark shows an enormous boost to the 5900HS which didn't show up in Cinebench R20. Finally, the 5900HS gets a modest but noticeable victory over Tiger Like i7-1185G7, our previous Geekbench 5 champion in the laptop space.
Performance—single threaded CPU




Jim Salter





Jim Salter





Jim Salter
Single threaded performance testing is more of a mixed bag. The fight here is entirely between the Ryzen 9 5900HS in the ROG G15 and the Tiger Lake i7-1185G7 running flat-out at 28W TDP.
In Cinebench R20, the Tiger Lake i7 and the Ryzen 9 5900HS are neck and neck, with a very narrow victory going to Tiger Lake. Passmark shows us the same situation, but with Ryzen 9 the just-barely-victor. Geekbench 5 grants the Tiger Lake i7 a more noticeable victory.
As usual, we caution readers not to get too excited about single-threaded numbers—the margins here are much narrower than in multi-threaded testing, and the tests themselves model a pretty uncommon workflow.
It's much more common to bottleneck on a single thread in a multi-threaded workload than to have a truly single-threaded workload running standalone. Also, these numbers do not demonstrate "per thread performance in a multi-threaded workload;" they test true single threaded performance with all other cores idle or very near-idle.
Performance—storage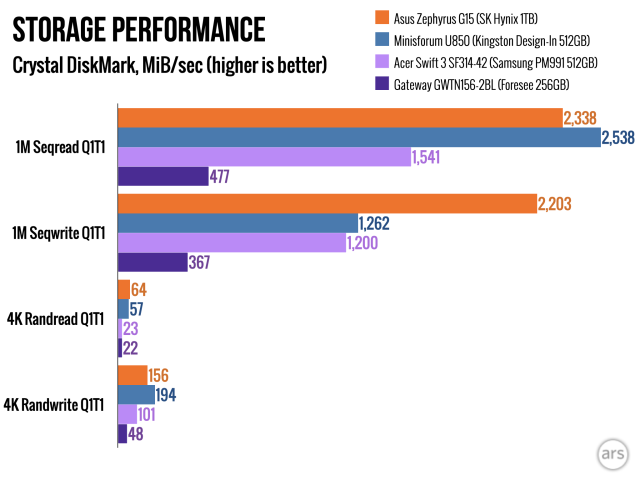 We weren't sure what to expect from the SK Hynix NVMe SSD in the G15—that's not a name you see often in the consumer SSD space, and the specific model seems to be new to the Zephyrus G15 as well.
CrystalDiskMark testing definitely put our minds at ease; the SK Hynix drive outperformed not only the Kingston Design-in drive from the Minisforum U850, but also the WD Black 2TB and WD SN730 512GB (not pictured) from this spring's gaming-focused Ars System Guide.
This is a seriously fast SSD, which contributes strongly to the overall impression the ROG G15 laptop gives a new user. It's not just a narrowly-focused FPS monster, it feels extremely fast in general use cases as well.
Performance—gaming




Jim Salter





Jim Salter





Jim Salter
When we first tested the ROG G15, we did so with completely out-of-the-box drivers—and it didn't do nearly as well as you see in the charts above. In fact, it barely outpaced last year's G14, which only has an RTX 2060 Mobile in it.
After downloading and installing GeForce Experience drivers directly from Nvidia, we pulled much more commanding results from the 3DMark gaming benchmark suite, which you see above. With the correct, up-to-date drivers installed, this system actually hangs neck-and-neck with the Lenovo Legion 5i gaming PC from this spring's System Guide—that's one heck of an accomplishment for a laptop.
On the other hand, the G15—despite having a GPU that says "RTX 3070" on it—does not come within shouting distance of the HP Omen 30L, which has a desktop RTX 3080 on board. If you're intimately familiar with wide ranges of CPU and GPU parts, this doesn't come as a surprise. But there are always new folks who don't realize that "desktop 3070" and "laptop 3070" perform wildly differently, as do, for example, "desktop i7" and "laptop i7."
That said, an RTX 2070 Super equipped desktop gaming rig is no slouch—nor is it cheap. At the $1,800 we paid for the ROG G15, we're getting almost the exact gaming performance we would from a similarly-priced desktop rig. That's pretty exciting.
Battery life




Jim Salter





Jim Salter





Jim Salter
Nobody buys a gaming laptop thinking they'll get the best battery performance around—and that mindset should be adopted for the G15. Even though it doesn't hang at the very top of our battery-life charts, this laptop scores solidly in the middle, alongside a pack of very good other laptops.
PCMark 10's Modern Office battery test simulates "a typical day in the office"—there are documents to be edited, videoconferences to be had and presentations to be made, with significant periods of desktop idle in between. The G15 scores just under 11 hours on this test—less than the HP Dragonfly Elite or Dell XPS 13, but better than Acer's Swift 3, let alone last year's ROG G14. This is mostly thanks to the whopping 90Wh battery in the G15.
Gaming battery life is a different story. The PCMark 10 Gaming battery test runs a moderately demanding 3D demo loop, swooping around the drone-haunted, lava-filled canyon from Fire Strike. The G15 only manages an hour and 18 minutes here—and the last eighteen minutes limped along at only 14 frames per second.
Gaming on battery is a joke. We don't recommend that anyone plan on doing much of that—on this or any other laptop.
Linux? Linux!




Jim Salter





Jim Salter





Jim Salter
To our surprise and joy, the Zephyrus G15 worked pretty well under Linux, with only a small amount of finagling. We did need to do a full install, since the live boot environment from an installer stays in safe video mode.
Given the bleeding-edge nature of the laptop—and the dubious Ubuntu results we had with last year's similarly-designed Zephyrus G14—we decided to go with the Ubuntu 21.04 final beta, rather than the 20.04 LTS. We also didn't want to screw up the Windows installation on the C: drive, since this was neither my own personal laptop nor a review unit.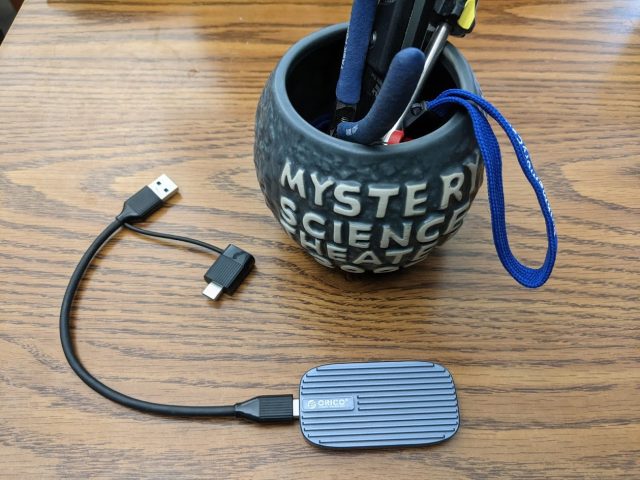 Booting into the Ubuntu 21.04 installer went off without a hitch, as did the actual installation onto the Orico portable SSD we plugged into another of the laptop's USB ports. Unfortunately, the new installation wouldn't boot—as usual, the default Nouveau open-source driver for Nvidia GPUs crapped in its own mess kit. In order to work around this, we rebooted the system and pressed "escape" to get the GRUB menu, then selected safe graphics mode boot.
In safe graphics mode, we had no difficulty getting to the desktop—and from there, we opened up the "Additional Drivers" applet and selected the current proprietary Nvidia driver for our RTX 3070. One reboot later, everything was running fine—we had sound, 3D-accelerated graphics, Wi-Fi, and everything else. The only unclaimed devices were the fingerprint readers, a Renoir IOMMU, and a Renoir audio processor (which did not prevent overall sound from working fine).
From here, we ran the glmark2 benchmark to confirm that our Nvidia RTX 3070 really was running, and running properly; then dove into the battery test. For battery testing on Linux, we used the BBC's "Open Ocean: 10 Hours of Relaxing Oceanscapes" video on Youtube. A script echoes the battery percentage, date, and time to a logfile once per minute, and we let it run down from there.
The ROG G15 went from 98% charge to 3% charge in two hours, 48 minutes before shutting down. This certainly isn't phenomenal, but it's not unusable, either. (For what it's worth, Ubuntu estimated about 10 hours total runtime on battery while we were faffing about on the desktop.)
Conclusions
Asus' ROG Zephyrus G15 is a heck of a laptop. Despite being a flat-out gaming machine, it's not very bulky, it doesn't feel crazy heavy (4.2lbs / 1.9kg), and its fan profile is pretty modest. While doing "normal laptop stuff," including tons of software installation with its attendant gigabyte after gigabyte of file decompression, the fans never even spun up to audibility in our relatively-quiet office. (They only became noticeable during Time Spy and Time Spy Extreme testing.)
There wasn't a single piece of hardware in this laptop we disliked—the SK Hynix SSD is blistering fast, the 165Hz display is oily smooth with great color range and decent (270 nits) brightness, and the CPU and GPU are both UFO-level fast as well. The Wi-Fi chipset is top-of-the-line Intel Wi-Fi 6 2×2, and there's both a full-size HDMI out and a full-size, non-collapsing RJ-45 Ethernet port!
The one piece of hardware we're mad about is the one which wasn't present in the G15 at all—a webcam. Just like last year's Zephyrus G14, the G15 is cameraless. There are enough USB ports available that it's probably not a big deal for most people to attach one when they need it, but we maintain that you shouldn't have to. We're a year-plus into our current reality, and the pandemic has elevated the importance of videoconferencing beyond anything the world's ever seen before. New devices should have webcams by default, period.
At least the battery life in the G15 is great—for a gaming laptop, it's phenomenal; for a high-end non-gaming laptop, it would still be solid. This machine (again, apart from the curious lack of webcam) makes a great daily driver, not just a laser-focused FPS-monster. Yet it is an FPS-monster, with gaming performance roughly equivalent to a high-end desktop PC with an RTX 2070 Super.
The good
Blistering-fast CPU, GPU, and SSD
Enormous 90Wh battery
Restrained aesthetic without too much "gamer bling"
Reasonably svelte and lightweight
Top-quality Wi-Fi
Full-size HDMI and non-collapsing Ethernet ports
Butter-smooth 165Hz 1440p display
Equivalent gaming performance to a 2070 Super equipped desktop gaming PC
The bad
Keyboard backlights flash "U" in Morse Code when the laptop sleeps (can be disabled in Aura controls)
Weighs more than a European swallow
The ugly
No webcam
Still no webcam
Once more for the people in the back: why isn't there a webcam?!
Listing image by Jim Salter